Whoever said love potion doesn't exist clearly didn't get out very much.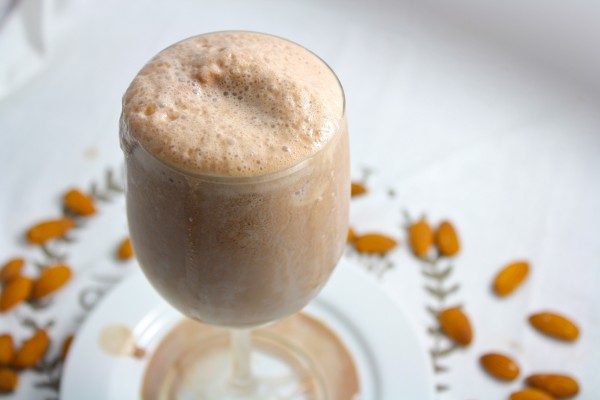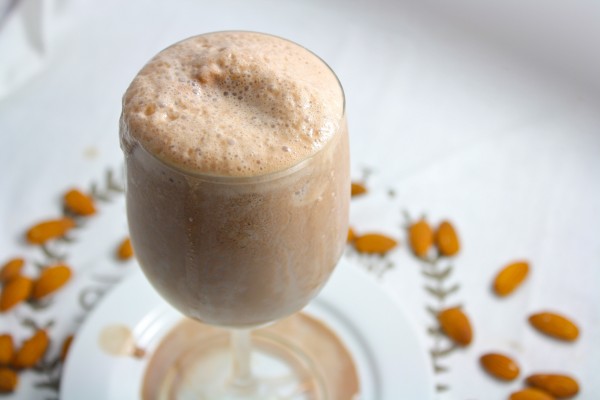 You want proof? Good. Let's talk chocolate peanut butter milkshake.
When you take creamy milk (I love almond, but full-fat coconut milk puts this over the top)) and blend it up with creamy frozen milk cubes (trust me- it tastes like ice cream!) and peanut flour and chocolate… oooh. I see a food coma coming and I love it.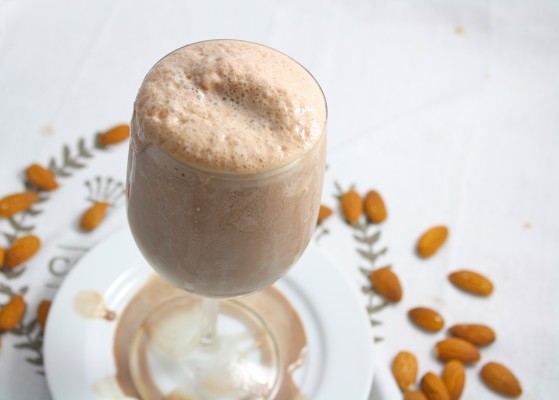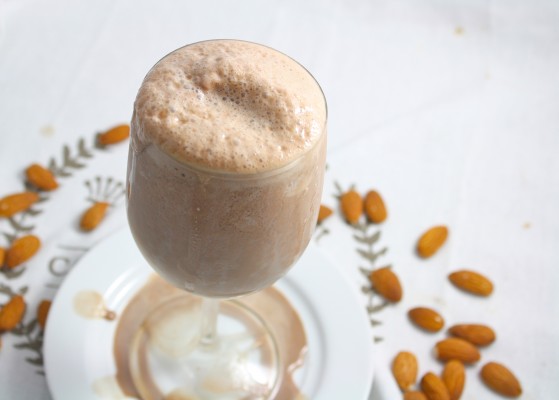 But that's the best part! There won't be a food coma. You see, while you and your sweetheart will be sipping away, little do you know the hea;thiness factor of this decadent milkshake.
So go ahead… indulge. Whip out the love potion, have a romantic dinner for two, and top it all off with this milkshake. Or better yet? Just drink the whole thing yourself. This is "me time" at its finest, people.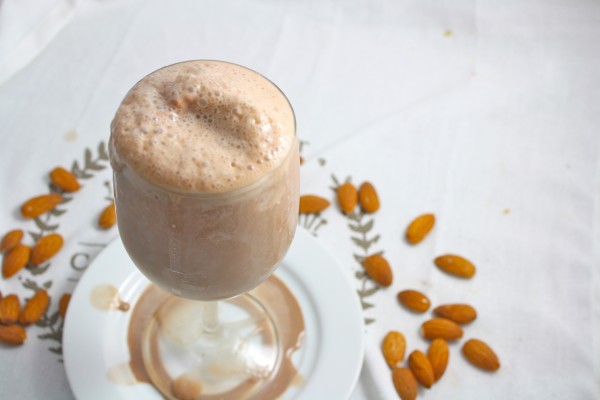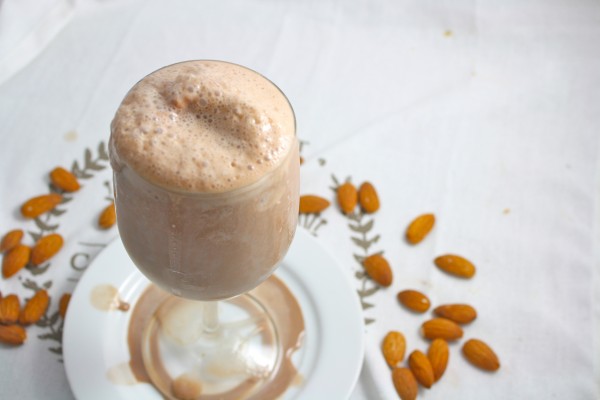 Remember, when there is this much wi  in only one commentary, said commentary is allowed to be shorter so you the reader are not overwhelmed with wittiness and chocolate. This is in your best interest.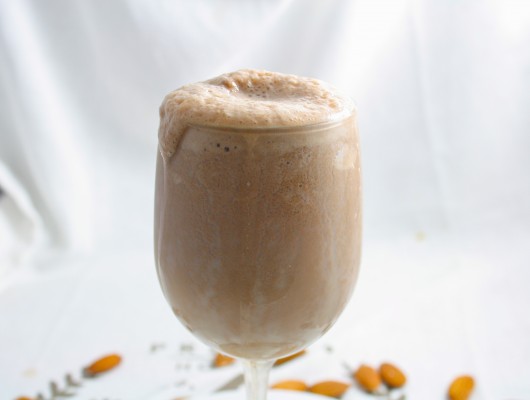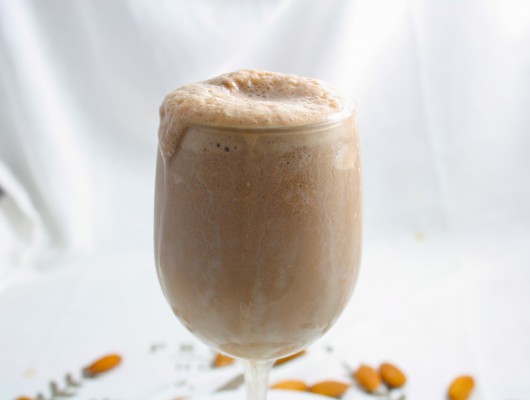 Dedicated with love to Meg at A Dash of Meg. Meg is a beautiful human being and if you haven't had the pleasure of meeting her yet, I highly recommend you go over and introduce yourself. Meg, I am so lucky to call you my friend, and the least I can do is sing your praises in public in milkshake form. You rock.
Yield: 1 GIANT milkshake (24 fl. oz.)
Serving Size: entire recipe (24 fl. oz.)
Chocolate Peanut Butter Milkshake
10 minPrep Time:
10 minTotal Time:
Ingredients
3 cups almond milk, divided
sweetener (I use ¼ teaspoon liquid stevia.)
½ teaspoon vanilla extract
1 Tablespoon unsweetened cocoa powder
1 Tablespoon peanut flour OR peanut butter
additional sweetener when blending, to taste (optional)
Instructions
In a 2-cup glass measuring cup, combine 1-½ cups of almond milk, the sweetener, and the vanilla extract. Pour into an ice cube tray and freeze until firm. Once frozen, combine the almond milk ice cubes with the unsweetened cocoa powder, peanut flour or peanut butter, and remaining 1-½ cups of almond milk. Blend at high speed until the mixture is a creamy milkshake consistency. Add additional sweetener to taste if desired. Pour into a large glass and drink up!
Notes
Feel free to substitute any kind of milk you want. Using something higher fat (I love coconut milk) really makes it decadent.
Use nut-free milk to keep the recipe nut-free.
Use any kind of sweetener you like, but just know that something liquid will dissolve better in the milk cube mixture.
Nutritional information calculated with unsweetened almond milk, peanut flour, and Hershey's unsweetened cocoa powder.
7.8.1.2
230
https://www.foodiefiasco.com/chocolate-peanut-butter-milkshake-veganlow-carbpaleosugar-free/
Nutrition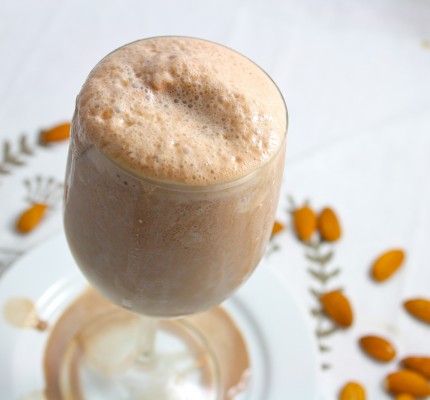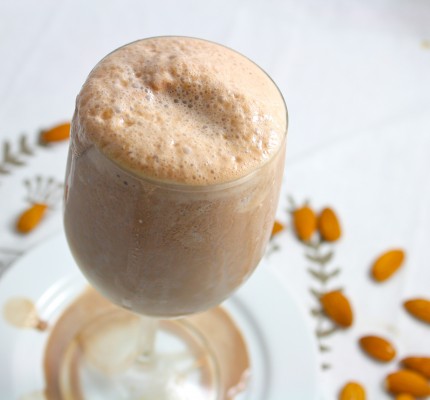 What is your favorite milkshake flavor?
When it comes to crazy flavors, my mom and I love coffee Oreo. I used to make the poor bartender whip up some vanilla ice cream thing with coconut syrup that didn't make any sense whatsoever. It was amazing.