If you're considering starting a food blog, I have only one thing to say. DO IT. It has changed my life in so many positive ways, and I want to do the same for you.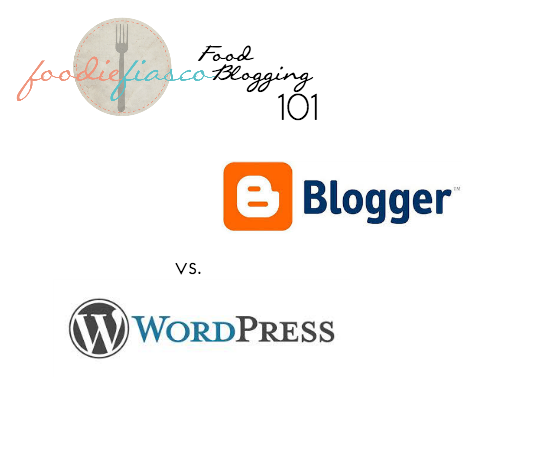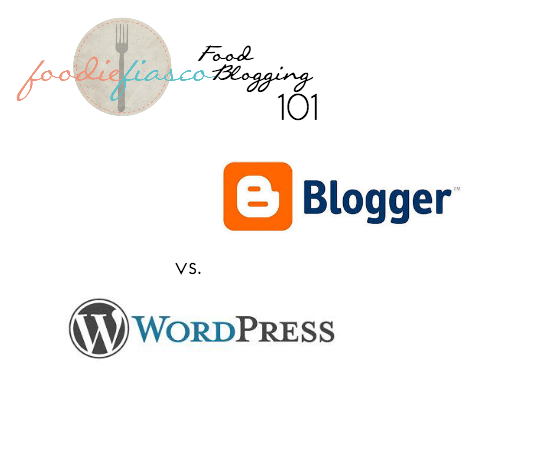 Sound good? It is. Welcome to the blogosphere.
So… where do you start?
Allow me to guide you through the exciting world of blogging platforms. There are so many options in this area, and today we will compare the two blogging giants: WordPress and Blogger. I know there are other alternatives such as Squarespace and Typepad, but, in my humble opinion, WordPress is the absolute best.
Are you on Blogger but want to expand your blog? Are you on hosted WordPress but want to migrate to self hosted? Do you want someone to give you a hug and take you through all this? You've come to the right place!
Overview
Blogger is a blog-publishing service that was acquired by Google in 2003. Blogs on Blogger are typically hosted by Google with the blogspot subdomain (i.e. foodiefiasco.blogspot.com). Therefore, Google owns your blog. The service is free and its interface is very easy to use, but options are vastly limited.
WordPress.com is a blog web hosting service owned by Automattic. It includes both free and paid "VIP" services. Since you do not host your own blog, WordPress has full rights to your content. Also, some basic services such as domain registration, removal of ads, and video uploading are not free.
WordPress.org is a CMS (content management service) that is the self-hosted sibling of wordpress.com. It is the most popular blogging service on the Internet, with over 60 million blogs! The download itself is free, but you have to use a third-party hosting company, which is not free. (I'll talk about this more later). Thanks to over 30,000 available plugins, wordpress.org can do pretty much whatever you need it to.
Blogger
Pros
It's free!
It's very easy to use.
Because you are hosted on Google's servers, your site will be very reliable and quick to load.
Cons
In a nutshell, it doesn't do very much. If your goal is to get content out into the world and nothing else, Blogger is an excellent choice. That being said, if you want to design your blog, make any kind of money, own your content, easily have comment discussions, or do anything beyond the very basics, Blogger is most likely not for you.
You don't own your own content. Google does.
You also don't have your own domain. You can purchase one though, but it'll cost you about $20 a year.
It's very difficult to run ads (let alone generate revenue) because of Google's policies, and Google could even run their own ads on your site without paying you a dime.
You can't customize your blog. I mean you can, but not very well. They have pre-made templates, which are fine I suppose, and you can do very basic CSS editing. But that's pretty much it.
After two months when you're bored with Blogger, migrating your content to WordPress is not a straightforward process. Read: you'll probably have to pay someone.
It's not worth it.
This is Foodie Fiasco when it was on Blogger. Please don't laugh too hard.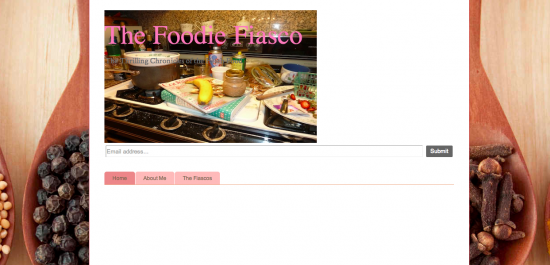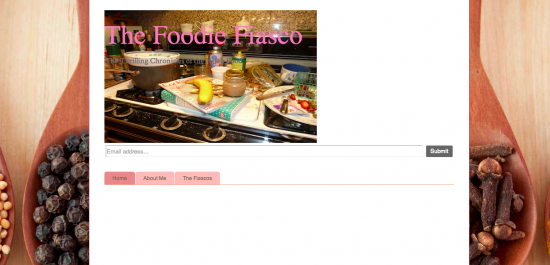 Ouch.
WordPress.com
Pros
You get some of the power of WordPress.org without having to pay for a hosting company.
It's easier to use than WordPress.org, and has far more capabilities than Blogger.
Themes! Themes are the framework for your website that give you aesthetic and technical flexibility. You don't have the infinite options you'd have on WordPress.org, but it's better than the nothing you have on Blogger. There are plenty of free choices, but the well-made premium ones have a price tag.
Cons
Again, since WordPress is hosting your blog, they have full rights to what you say. This makes your content less valuable, and we both know that your content should be worth a whole heck of a lot.
It seems free, but it's really not. If you want to do basic things such as upload videos, edit CSS, purchase your own domain, or store a reasonable amount of content (hello, food pictures!), it's all going to cost you.
WordPress can and will put ads on your site without paying you anything. Want to stop that? It'll cost you.
Also not worth it.
WordPress.org
Pros
There are infinite possibilities. Truly. The program is very powerful and flexible.
Plugins! Plugins are extensions you can easily add to your site to make it do absolutely anything your heart desires.
An infinite number of themes. I need (and will probably take) a whole post to describe how beautiful this is.
Hosting may sounds intimidating and expensive, but it's really not! It's very easy to get hosting for about $5 a month.
Your content is your content. You own everything you make and you answer to no one.
Great support forums! WordPress geniuses and plugin authors are very helpful and knowledgable, and the forums are very well-organized.
Um, Foodie Fiasco uses it. Enough said.
Cons
Although the service itself is free, the hosting you'll have to use is not. But like I said, hosting is often very inexpensive and ultimately cheaper than wordpress.com could be.
It's definitely the hardest program to use. You can get away without using any code (as I often do), but you'll have to be comfortable with installing things and doing intermediate technical maneuvers. But with the right theme, you'll never have to touch any code.
That right theme? Not free. I'm a developer for some great theme companies, so you can email me and I'll get you a special discount.
The verdict
If you are at all serious about your blog, choose WordPress.
If you're pretty sure this is something you want to pursue, I would start directly at the self hosted worpress.org. (I'll talk about hosting in the next post.)
If you want to get your feet wet and then decide if you want to blog long-term, start with wordpress.com then migrate to wordpress.org.
If you want to blog purely for personal reasons, that's awesome. Have fun on Blogger!
I hope this helps you on your blogging journey! I'll be back soon with recipes and how to choose a hosting company. If you ever have any questions, please shoot me an email at kelly {at} foodiefiasco.com