Have you ever wanted someone to do all of your tedious tasks for you? Of course you have. I mean… hello? Story of my life.
Wouldn't you like someone to help you navigate through the nightmare that is advertising (a.k.a. those ridiculously obnoxious billboards and commercials that just won't leave you alone) to help you find products that aren't, um, TERRIBLE? Um, yes. You would like this very much. But how much would this cost? A lot?
You see, despite my pleasant recurring dreams, money does not grow on trees. Nor does it rain down from the sky in copious amounts. Nor does it magically appear in an empty swimming pool in your backyard so you can dive in it head first while you exclaim loudly that you are swimming in money. Nice dreams, no?
My point is that (yes I do have tangible points from time to time) you want to save your moolah. Throwing it away on random gadgets that sound neat but are horrible/useless in actuality is best avoided. But alas! Who can tell you the truth about these products when the world of marketing makes the actual quality of the product irrelevant? This is would be my cue.
In my quest to aid you with your quest to a healthy lifestyle, I will be testing out food/fitness products and giving you a short and sweet yet in-depth description, helping you pick out the winners from the duds. Unlike whoever came up with that obnoxious Nutella commercial, you can't pay me enough to sell a product I don't believe in fully. I will not tell a lie.
So without further ado, I bring you the star of today's post!
The Victim: Max Flow Sports Cross-Grip Hairband (in pink)
The Cost: $9.99*
The Test:  I wore this headband around the house for an hour and then did a session of Tae Bo to see how this headband would fare. Look, here I am!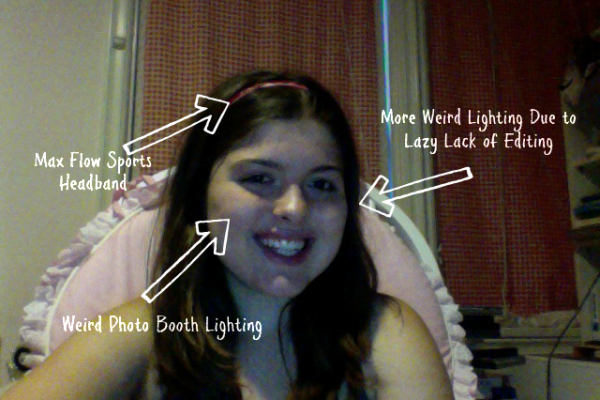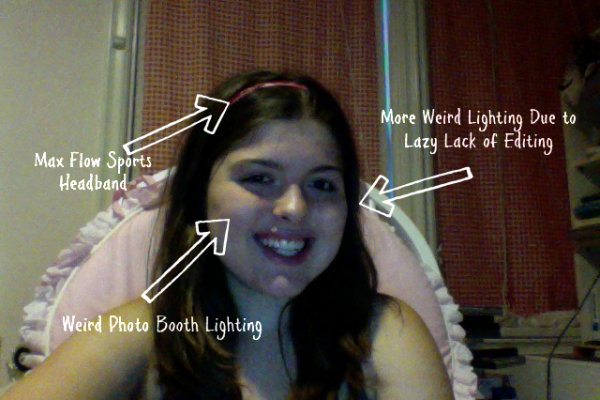 What the Company Says: "It can manage your sweat, control your flow, and help you look your best. The MaxFlowSports Cross-Grip technology will secure the band and you will never look back. Quickly you are once again focused on your goal-excelling at whatever you do." 
[source]
The Results
1. Appearance: Okay, as a person who thinks most workout headbands are simply too gross to be dealt with, I thought this one blew the other ones out of the water. The headband certainly isn't flimsy, but it is very thin. I'm not a huge pink person, but at least it was a cheerful color. I mean, when I'm sweating golf balls and panting my lungs up while trying to not die during cardio, at least I can take solace in knowing that my hair accessory is cheery.
2. Comfort Level: I don't know if I have an abnormally large head or what, but this hairband felt really tight! While I was just wearing it around, I did feel a minor headache coming on. That being said, it held my hair back really well, so I guess as a hairband, it accomplishes its purpose.
3. Performance: Alright ladies. You know that one strand of hair that just won't quite bothering you while you're working out, and you seriously consider just chopping it off so you can live happily ever after? As someone who is probably more annoyed by hair in my face than the average person, I am excited to report that this hairband does perform. I can understand the tight-ness because of how well it holds your hair back. I am excited to try this hairband for yoga! (Crazy down dog hairdo, anyone?)
The Verdict-Is It Worth It?: Overall? Yes. Although you may have to shell out a few bucks more than a regular cheap-o-la headband, this one will undoubtedly hold up better and longer, it looks better, and, if you have a more average-sized head, will be more comfortable.
*I was given this headband for free by Max Flow Sports, but as always, this in no way affects my opinion of the product.
Enjoy!
-Kelly M.
What are some of your favorite workout goodies?