Also known as a big hunk of chocolate cake perfection.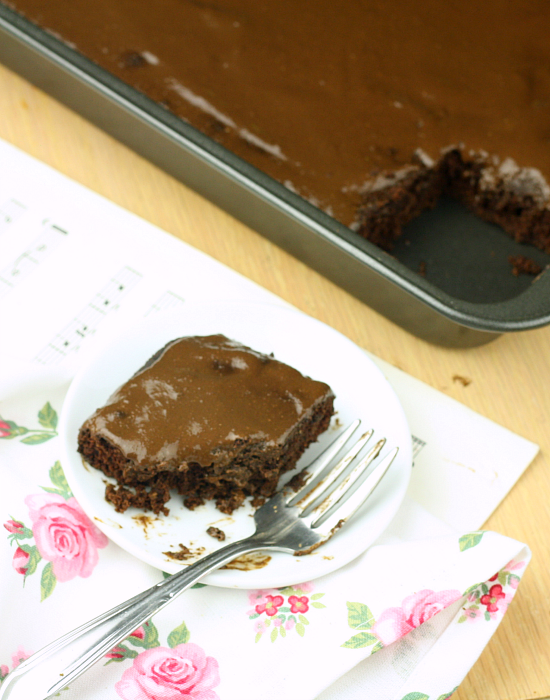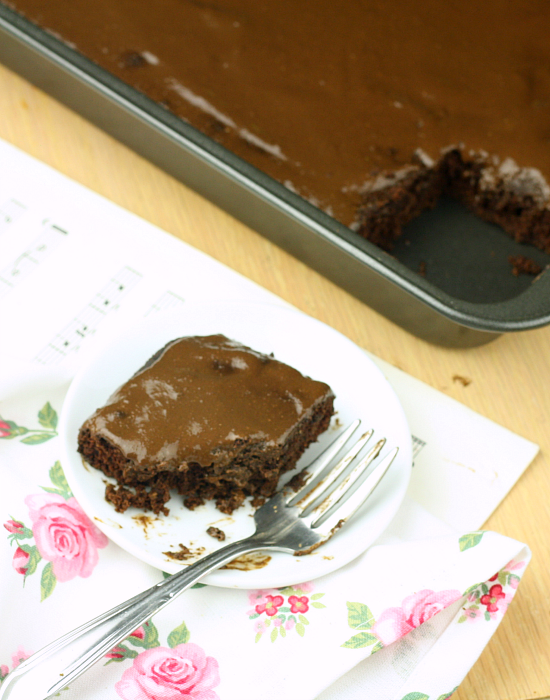 I feel like I should give you some history on this. Instead of quoting the Texas sheet cake Wikipedia page that does not exist, I'll tell you that all my taste testers adored this and I've never been to Texas but I have seen it on a map and that's how big this cake is. Therefore I am an expert.
Seeing that my taste testers on this are a bunch of teenagers on a Monday morning who would definitely say if they didn't like it, I can say with the utmost confidence that you need to make this cake now. There was a sea of thumb-ups and a passionate dispute over who got the last piece.
The eaters in your life will be very pleased with this.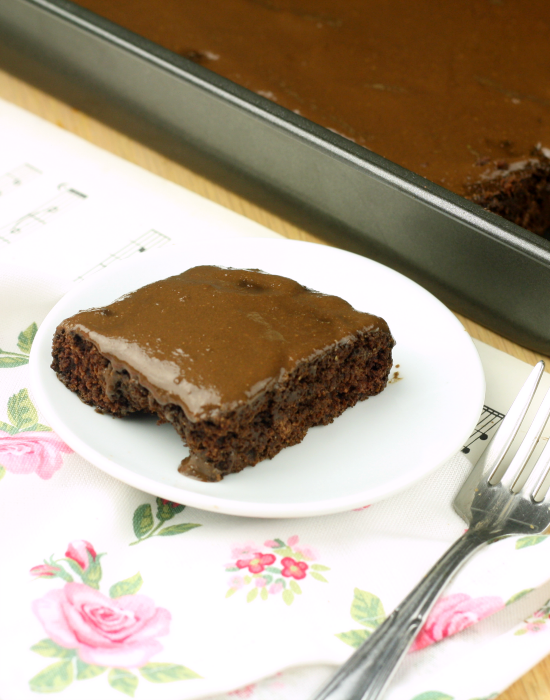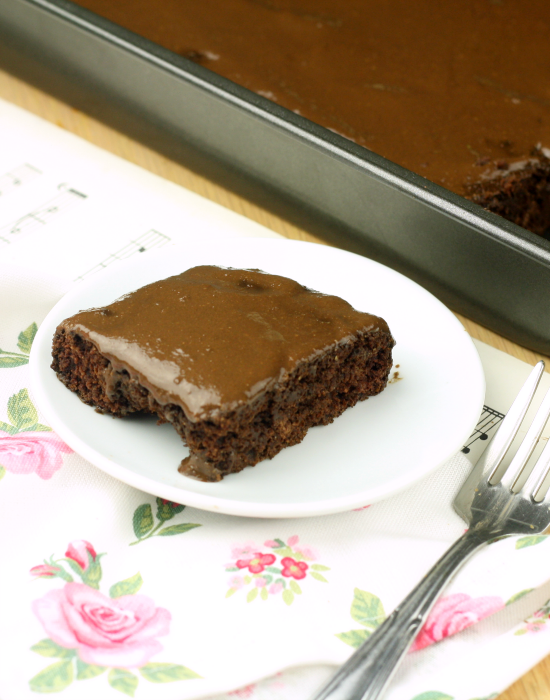 This perfect chocolate cake is just a recipe you want in your arsenal.  For those Church picnics, hungry teenage friends, or the omg-the-sky-is-falling-and-I-need-cake-20-minutes-ago days. I got your back.
See how conservative that piece is? Be prepared to have three. You have been warned.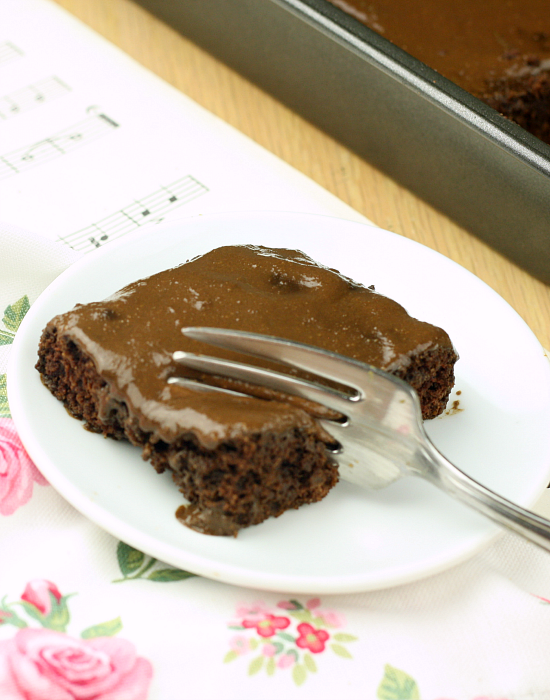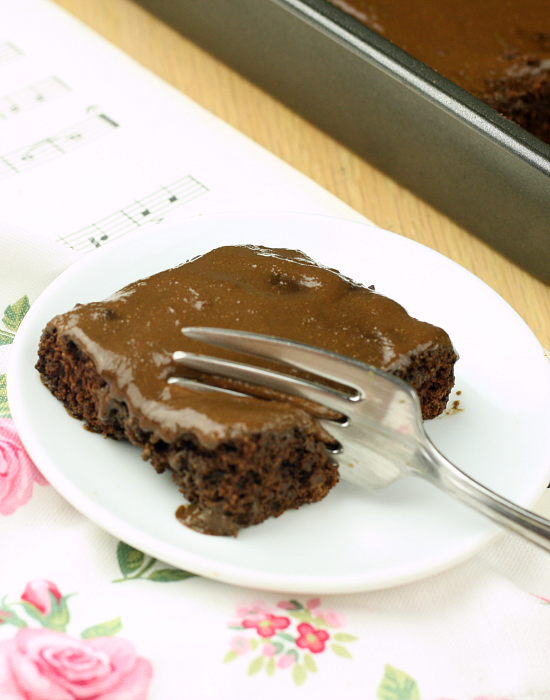 Start by making the ridiculously simple batter. This is one of those where I was sure I had done something wrong because it made sense and was so darn easy.
This is also applicable to math, where if anything makes sense or (heaven forbid) is easy then you know it's wrong.
But I'm so happy I was wrong this time! Wrong about being wrong… does that make me right? Whatever. We all get cake, so the answer is yes.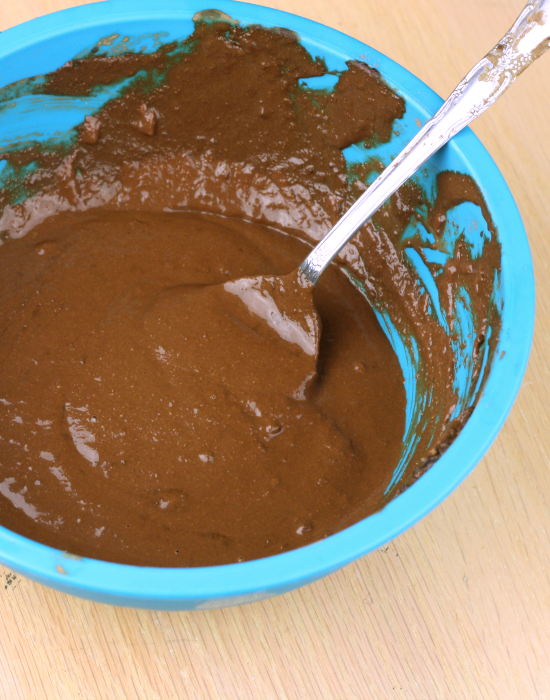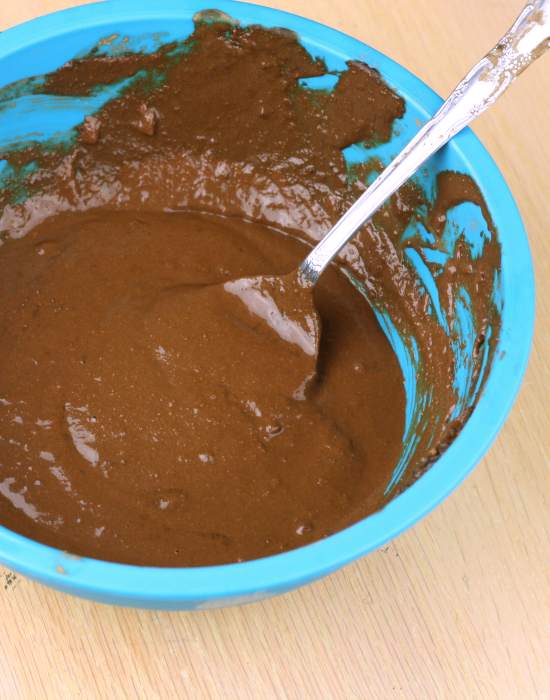 Pour that rich, creamy, 30 second cake batter frosting all over the cooled cake and resist the urge to eat all of it off a spoon. (Or not.)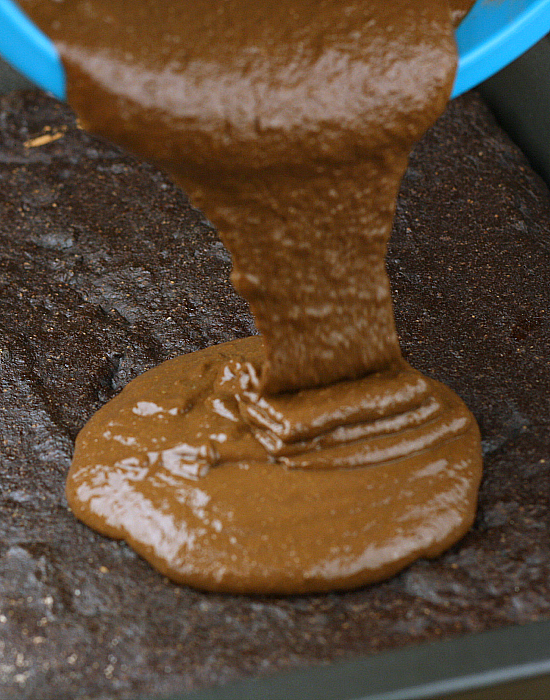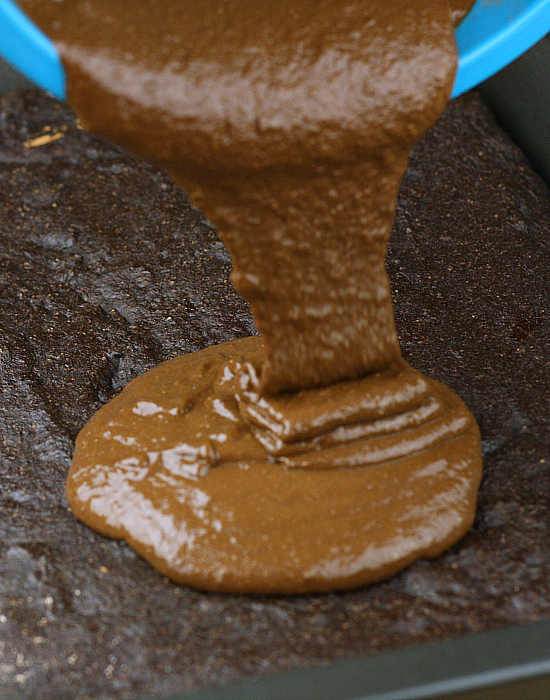 Cut a big piece from the corner for yourself before you take pictures. You're such a ninja! No one will ever know. Mwahahaha.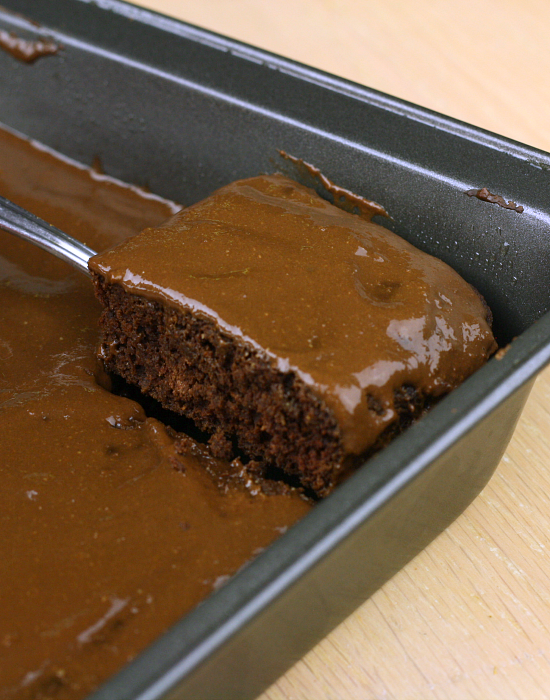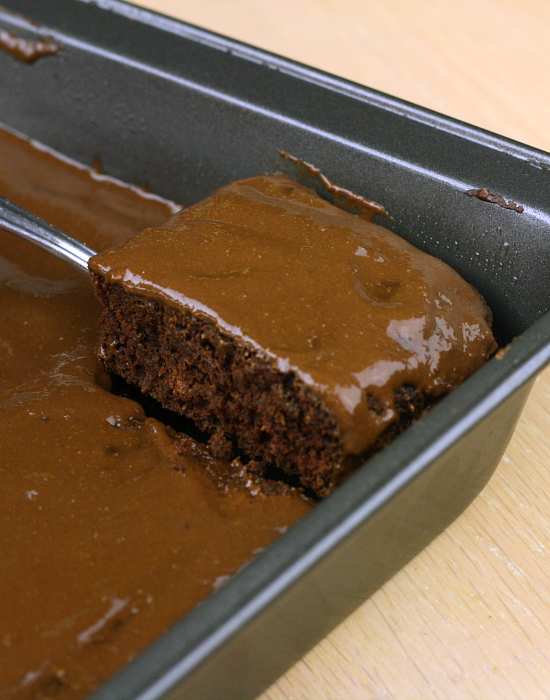 Unless you talk about it on your blog. Then they'll know. But you can distract them with cake! Oooooh cake. Mission accomplished.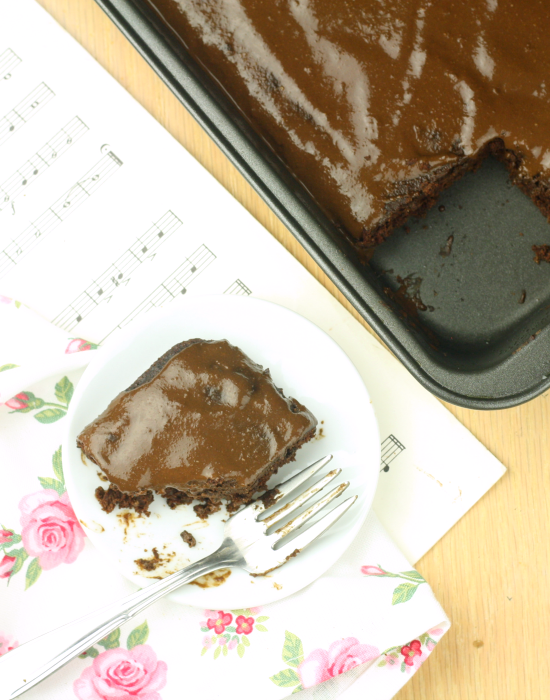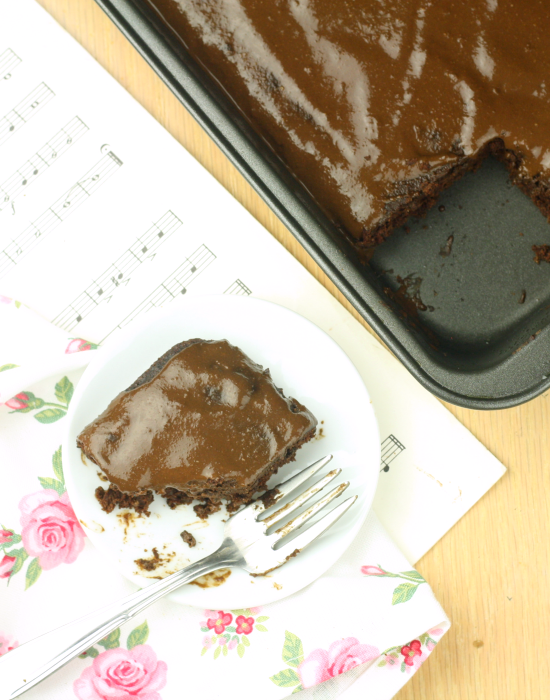 Yield: 24 slices
Healthy Texas Sheet Cake
10 minPrep Time:
25 minCook Time:
35 minTotal Time:
Ingredients
2 1/2 cups white whole wheat flour OR 1 1/2 cup almond meal plus 1 1/2 cups coconut flour
1 1/2 cups sugar or erythritol
2 tsp baking soda
1 tsp salt
2/3 cup unsweetened cocoa powder
2 cup almond milk
1 tablespoon vanilla extract
2/3 cup applesauce
2 tsp distilled white or apple cider vinegar
Instructions
Preheat oven to 350°F. Grease a 9x13 inch backing dish and set aside.
In a large bowl, combine the flour, erythritol or sugar, baking soda, salt, and unsweetened cocoa powder. Add in the almond milk, vanilla extract, applesauce, and vinegar until the batter is uniform and no pockets of flour remain. Take care not to over stir. Scoop 1 cup of the batter into another bowl and set aside.
Pour the batter into the prepared baking pan. Bake in the oven at 350°F for about 25 minutes, or until a toothpick inserted into the center comes out clean. Allow to cool before frosting.
Meanwhile, add 2 tablespoons of unsweetened cocoa powder and 3-4 tablespoon almond milk (one tablespoon at a time, adjusting as needed) to the reserved 1 cup batter and stir until combined. Chill in the fridge until the cake is completely cool. Spread the frosting over the cooled cake and devour.
Notes
Nutritional information calculated with white whole wheat flour and erythritol.
7.8.1.2
327
https://www.foodiefiasco.com/healthy-texas-sheet-cake/
Nutrition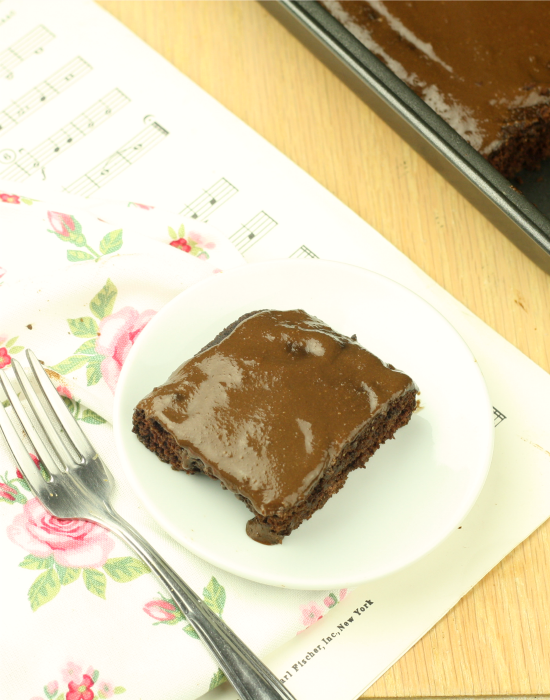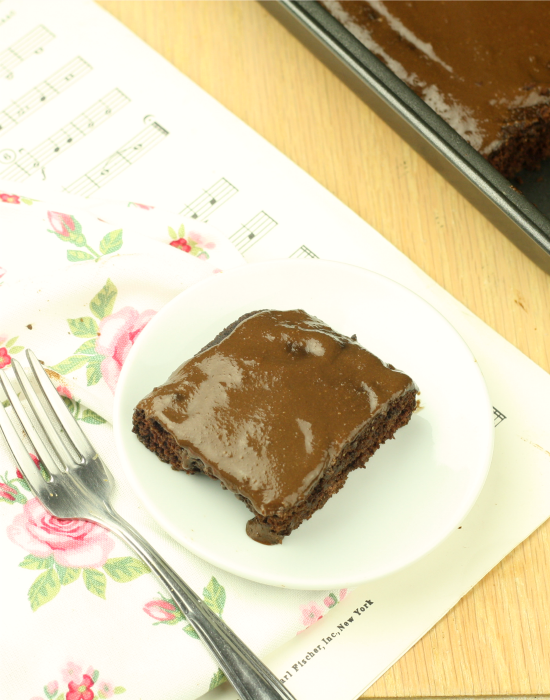 When do you eat cake?
Often. I eat cake often. And you will too after you make this! But no worries, it's only 50 calories a slice.