This stuff coming was a good omen.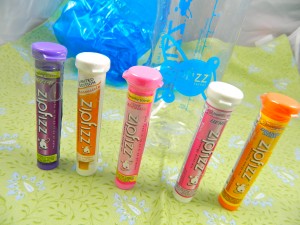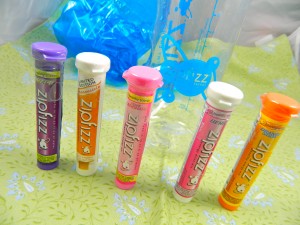 Since I've been having some low energy issues, I couldn't believe my luck when the peeps at Zipfizz , a healthy energy mix, emailed me and told me that they'd like me to review their products.
Dear Blogger,
We would like it very much if we could send you some of our products for your review and enjoyment. Please contact us at your earliest convenience. Thank you for your time.
So naturally, I felt obligated to be equally professional in my response.
Dear Zipfizz,
OH MY GOSH THANK YOU SOO MUCH FOR GIVING ME FREE STUFF!!!!!!!
All the best,
Kelly of Foodie Fiasco
Yup. They must've been really impressed by that.
Well, thankfully they weren't too frightened by my, er, enthusiastic response, and they sent me free stuff anyway. Thanks Zipfizz for not being creeped out by me!
And as if they aren't being nice enough, they're giving TWO of you a package of this great stuff, too!
Maybe they're entertained by strange food bloggers.
So anyway… here's what Zipfizz is all about:
"Zipfizz is an all-natural, great tasting energy drink-mix powder
that delivers a powerful charge of micronutrients to the body's fuel
system. It contains no ephedra or other artificial stimulants. Most
people experience an immediate, revitalizing burst of energy after
taking Zipfizz.
Zipfizz is healthy energy in a tube! Give your body a rush of
vitamins, minerals and key amino acids to protect the immune
system. Zipfizz has created an advanced formula that provides a significant amount of vitamins, fewer calories, lower carbohydrates,
superior taste, variety and unique packaging! Simply put, it's
different because it's good for you!
Use Zipfizz as a morning or afternoon pick-me-up, or enhance
your training by taking it before, during, or after a hard workout.
Because Zipfizz contains no sugar, users will experience an
increased energy level for up to 4 – 6 hours with out the sudden
"crash" associated with other energy drinks.
(Source)
I hope you enter and I hope you win!
To enter:
Leave a comment telling me if you believe in traditional energy drinks (like Red Bull). And if you're like me and think they're absolute garbage, have you ever tried a "healthy" energy supplement like this? What did you think?
For an additional entry, and leave a separate comment for each:
Add me to your blogroll (I feel so conceited asking that, but if you wouldn't mind I would really appreciate it. (i.e. I would start dancing around in a really spastic and corny manner of gratitude.)
Follow me on Twitter
Pin or repin one of my pictures
Thanks for entering again, and good luck!
Enjoy!
-Kelly M.