Guess what? Nope .You can't guess. Can you? I don't think you can! But maybe you can. I don't know. Just guess!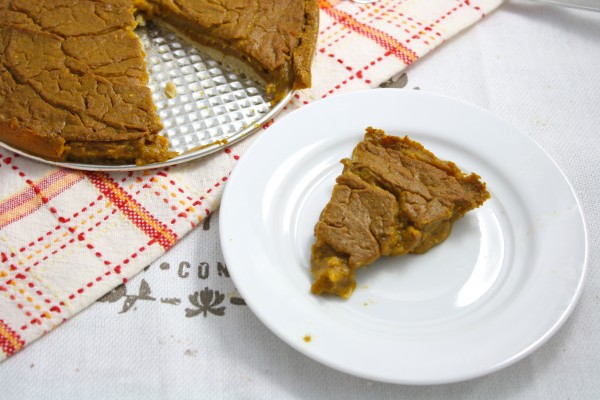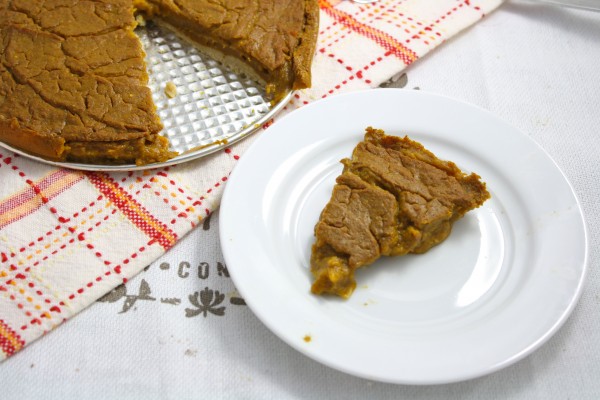 Okay, I'm going to tell you, but you have to listen very carefully. THIS IS THE GREATEST PIE IN THE ENTIRE WORLD. Why, you may ask? Simple.
Well first off, it tastes pretty darn spectacular.Second off…drumroll please… THERE ARE ONLY 250 CALORIE IN THE ENRITE PIE. All 8 inches of pumpkin-y goodness can be yours for only 250 calories, crust, filling, and all. You see, this is important enough for large font, no? Never too much large font in case of pie.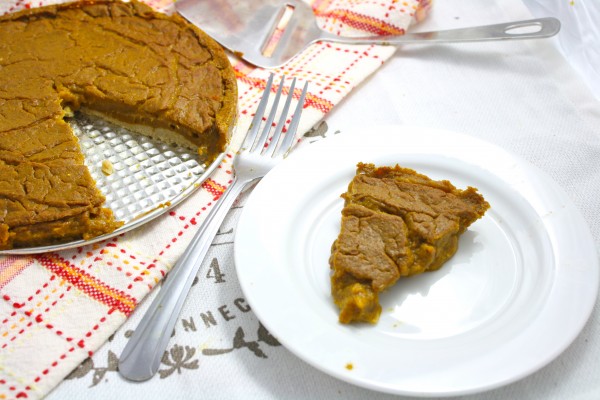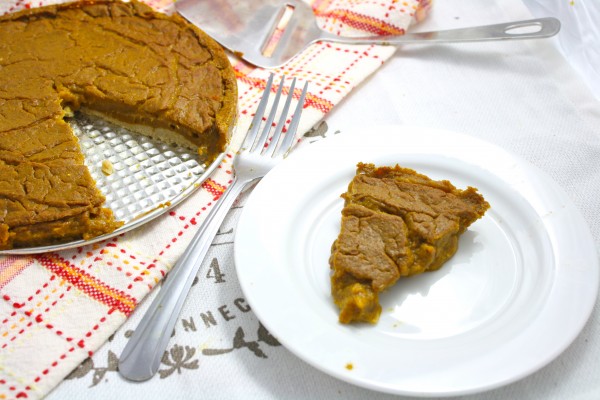 Pie is quite possibly the greatest expression of love human being can give one another. See? That's how much I love you. I made you pie.
I mean, after the amazing and beyond comments on my last post, I had to try to live up to your amazingness. I mean, you're so great that I had to make up a word just to begin to describe you accurately!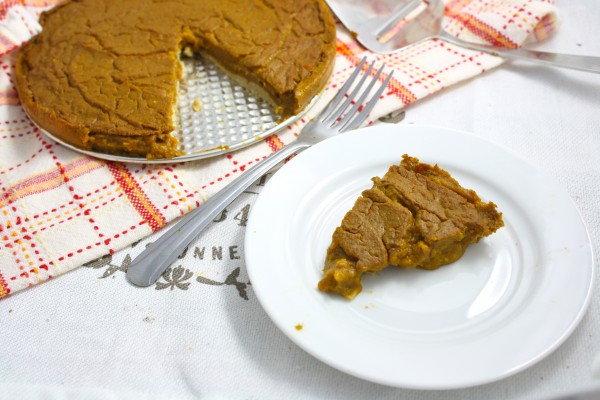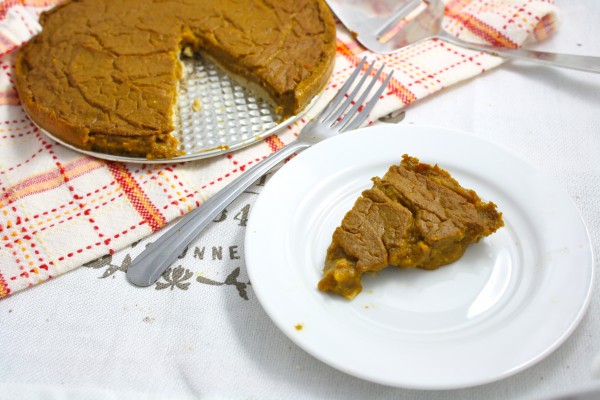 In all seriousness, I want to thank you so very very much again. Your wonderful comments and emails continually make me day. Know that every time you leave a comment, or just say hello somehow, you are making a fourteen year old girl smile. Thank you. Thank you so very much.
And I meant what I said! Schoolwork is demanding, but I will kick this plateau and make some improvements. I'll keep posting every three days, I'll try to respond to everything (yes, everything), and I'll be posting super-duper scrumptious recipes, especially your ideas!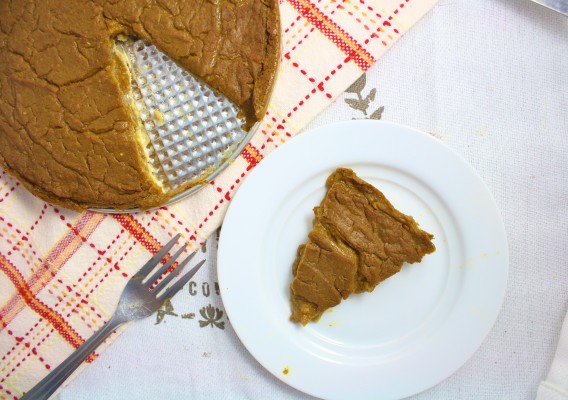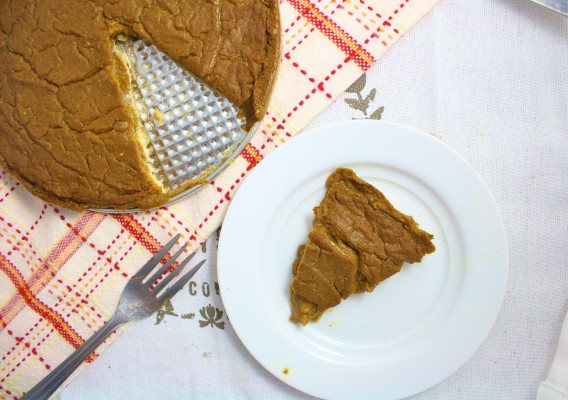 Speaking of which…
Yield: 8 slices
Pumpkin Pie (Vegan/Gluten Free/Grain Free/Sugar Free/Low Carb/Low Calorie)
10 minPrep Time:
50 minCook Time:
60 minTotal Time:
Ingredients
For crust:

1/4 cup chickpea flour
1 Tablespoon applesauce
1/16 teaspoon salt
1 packet stevia
1/4 teaspoon vanilla extract
3 Tablespoons almond milk

For filling:

1 (15 ounce) can pumpkin puree
1 teaspoon cinnamon
1/2 teaspoon ginger
1/2 teaspoon nutmeg
1 Tablespoon egg replacer whisked together with 2 Tablespoon water
1/2 cup almond milk
1/4 teaspoon + 10 drops liquid stevia, or to taste
Instructions
Preheat oven to 350F. Grease an 8-inch pie pan and set aside. I use a springform pan because it makes the pie much easier to slice cleanly, but you can use a regular pie pan if that's all you have.
Combine all ingredients for crust and spread evenly over the bottom of the greased pie pan. Bake in the oven for 15-18 minutes, or until golden and firm.
Meanwhile, whisk together all the ingredients for the filling until very thoroughly combined. Pour over the baked crust and bake in the oven for 35 more minutes. Chill the pie for at least two hours before serving. It may seem a but liquid-y right after you take it out of the oven, but fear not! It will firm up.
7.8.1.2
243
https://www.foodiefiasco.com/pumpkin-pie-vegangluten-freegrain-freesugar-freelow-carblow-calorie/
Nutrition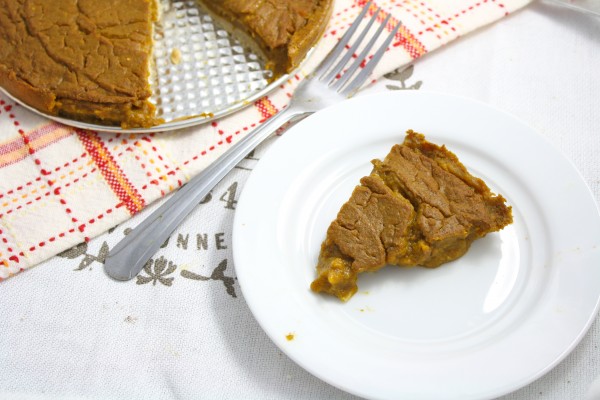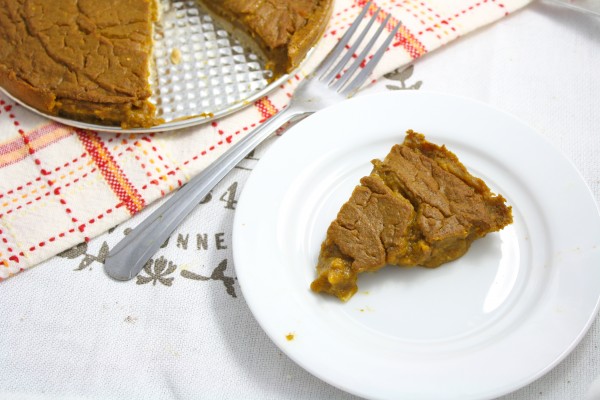 Holiday dinner? No problem! You've got this pie in tow. Bring it on.
Enjoy!
Kelly M.