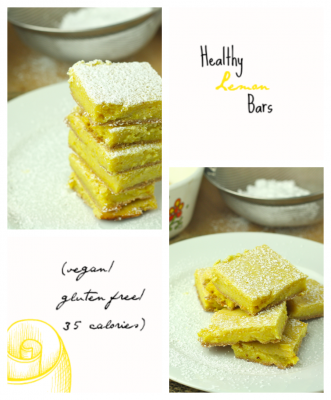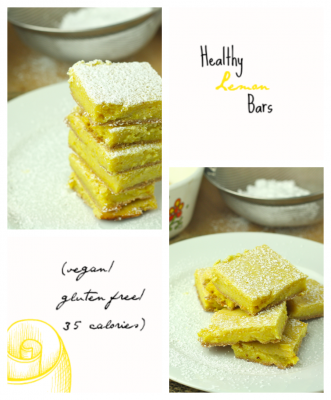 Heck with lemonade. When life gives me lemons, I'm making lemon bars.
Let's face it: we all have to deal with lemons. And sometimes they're not even the cool lemons like the ones on 30 Rock played by Tina Fey. Nod your head because you understood that reference. Yes. Good.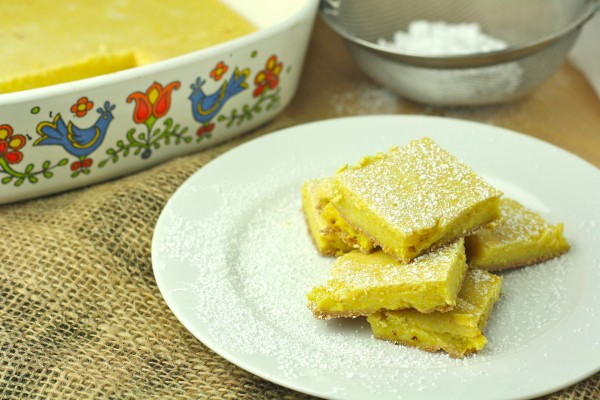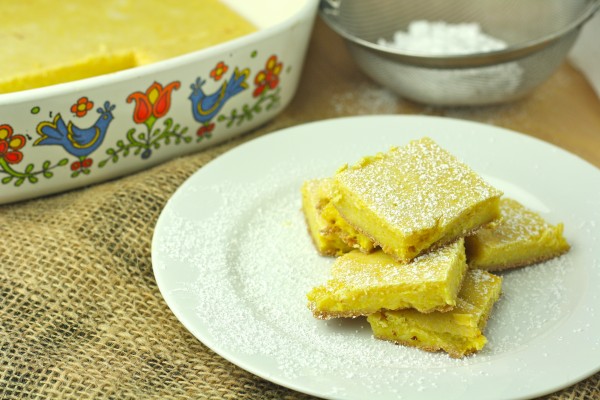 I'm sorry posting has been a bit intermittent lately. See that super multi-syllabic word I just used? Four syllables, to be exact. Now you know how much studying I've been doing.
The next few weeks will be a bit hectic, but come summer, you are so stuck with me. (Please contain your enthusiasm.) Food overload is coming your way.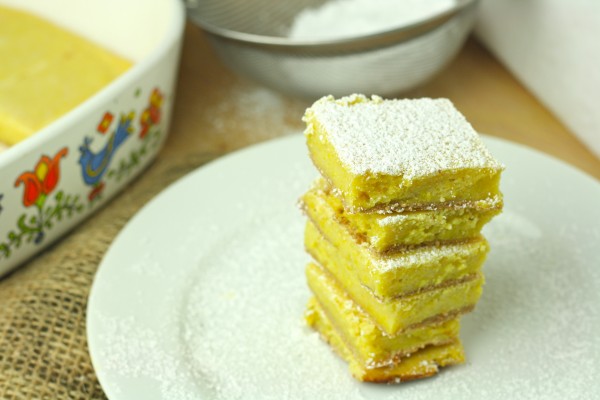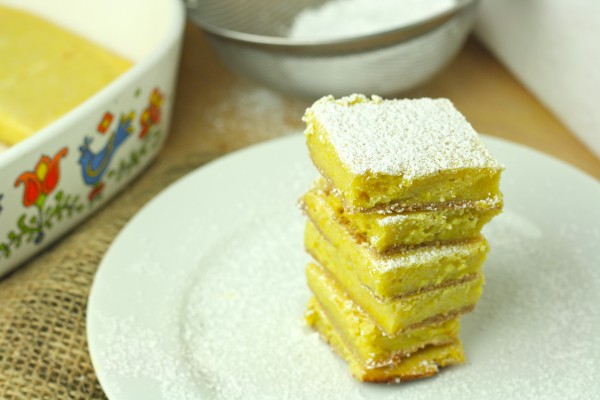 Speaking of overload, I've gotten into the habit of testing recipes in sudden baking extravaganza spectacular which mysteriously leave a spectacular amount of dirty dishes in the sink. Weird.
These very healthy lemon bars were made at the same time as my new favorite biscotti and, well… I bake in stretchy pants for a reason.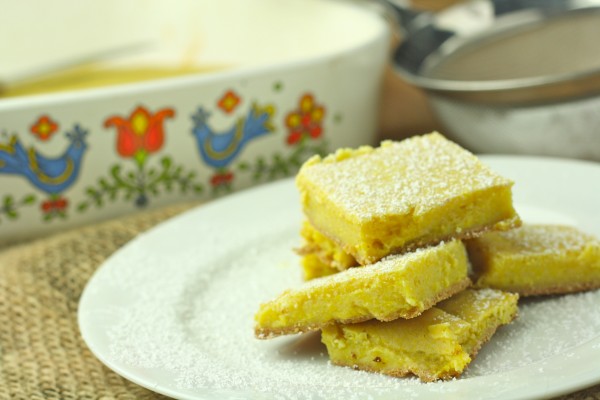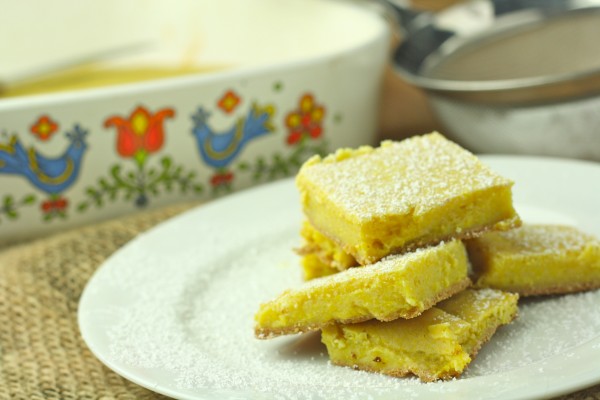 I love lemon bars. I love them so much that I don't even care whether they're called lemon bars or lemon squares (it is lemon bars, but whatever). They help me channel my inner Downton Abbey. I envision an assortment of cookies and those cute little tea sandwiches neatly literally handed to me on a silver platter.
I love lemon bars, but I love l.o.v.e. LOVE these lemon bars. The crust, that amazing texture, and the tangy but not too tangy lemony flavor… wow.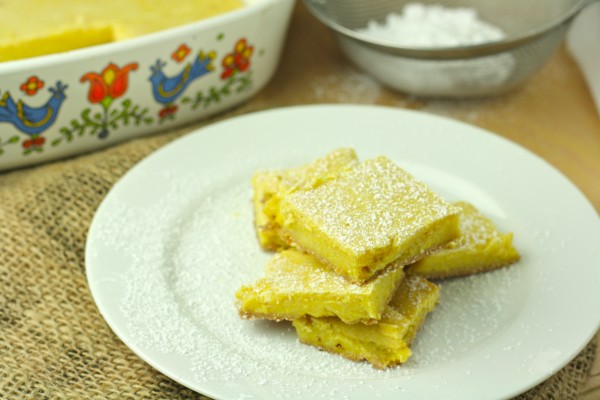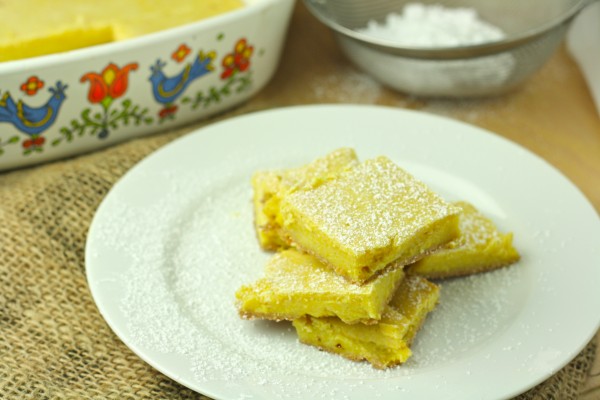 Seriously, I cannot recommend them enough. The crust can be made with with whole wheat flour or chickpea flour, and the secret ingredient in the filling is Greek yogurt (or vegan yogurt, if that's your groove). Plus, they're 35 calories each. Thirty five calorie lemon bars. Oh my gosh.
This is my go-to recipe. And now it will be yours! I can prove it to you over tea. Shall I have my people call your people?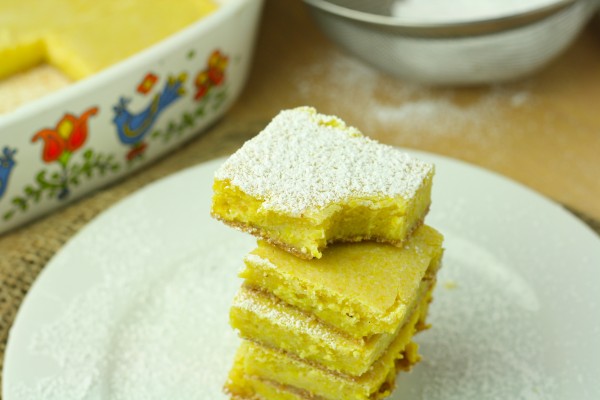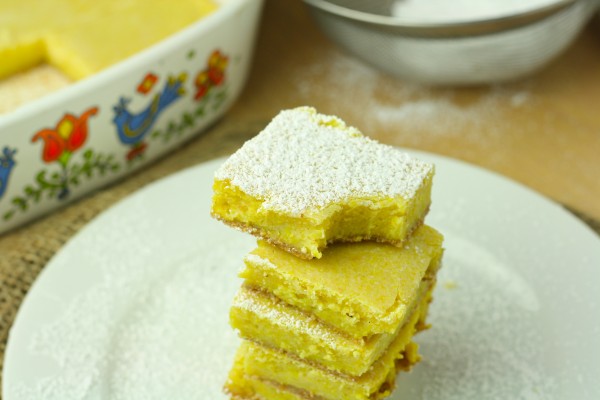 Dedicated to all cancer patients, survivors, and caretakers. The two year anniversary of my mother's surgery as a method of treatment for her stage II breast cancer was a few days ago (thanks to the Good Lord, she is currently healing), and I am participating in the Revlon walk for women's cancer tomorrow. May God bring you healthy and happiness. I wish I could take all the lemons in your life and make them into lemon bars for you.
Yield: 16 bars
Healthy Lemon Bars (Low Carb/Low Calorie/Gluten Free/Paleo/Vegan)
10 minPrep Time:
25 minCook Time:
35 minTotal Time:
Ingredients
For crust:

1/4 cup white whole wheat flour or chickpea flour
1 Tablespoon applesauce
1/4 teaspoon vanilla extract
3 Tablespoons of almond milk
1 1/2 Tablespoons erythritol or cane cane sugar OR 1 packet NuNaturals Stevia
pinch salt

For filling:

4 beaten eggs, or 2 Tablespoons Ener-g Egg Replacer stirred with ½ cup water until thick
1 cup erythritol or cane sugar
2/3 cup freshly squeezed lemon juice
1 Tablespoon plus 1 teaspoon lemon zest
1/2 Tablespoon tapioca starch
2/3 cup white whole wheat flour OR almond meal
12 ounces (1 ½ cups) Greek yogurt (I used 0%, but 2% or whole would be lovely as well.)
2 teaspoons vanilla extract
1/4 teaspoon turmeric (for color)
Instructions
Preheat oven to 350°F. Grease or spray an 8x8 baking dish with cooking spray and set aside.
In a medium bowl, combine all the ingredients for the crust and stir until completely combined. Spread in a greased or nonstick sprayed 8x8 baking dish. There is not a lot of crust, so you need to be very careful to evenly spread the batter across the bottom of the dish. I used a fork and quite a bit of patience for this. Cook in the oven at 350°F for 18 minutes, or until firm and the edges are crispy. Set aside.
In a food processor, combine all the ingredients and pulse until smooth. Feel free to add additional sweetener to taste. Pour onto the cooked and slightly cooled crust and bake in the oven at 350°F for about 25 minutes, or until firm. Stick in the fridge for as long as you can stand it, then cut into bars and devour.
Notes
For a vegan version, use egg replacer and vegan-friendly yogurt.
For a paleo-friendly version, use almond meal and erythritol. I have not tried almond meal in the crust and therefore cannot vouch for it, by I assume it would work just fine.
Nutritional information calculated using erythritol, egg replacer, white whole wheat flour, and nonfat Greek yogurt.
7.8.1.2
234
https://www.foodiefiasco.com/healthy-lemon-bars/
Nutrition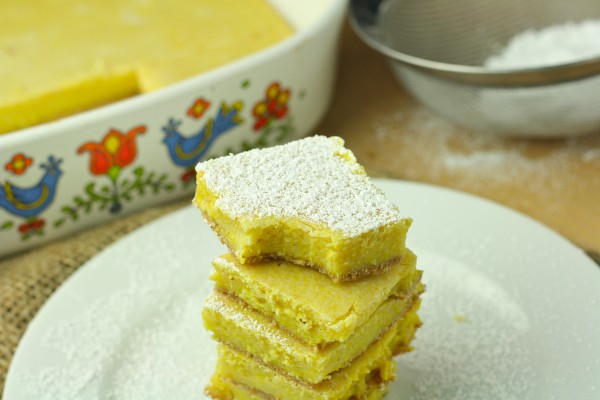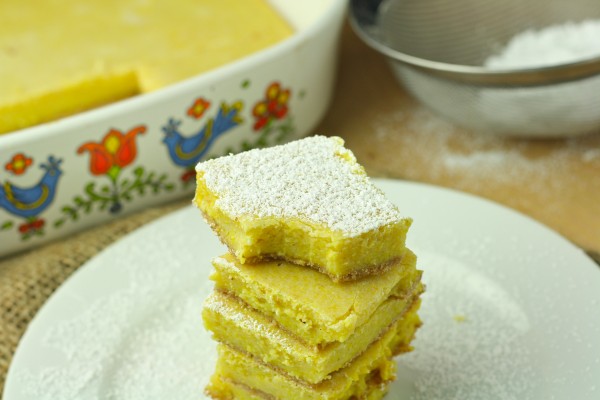 What is your favorite kind of bar? (Of the food sort, of course)
I love lemon bars. I love them so much that I said the exact phrase "I love lemon bars" four times in this post. You're welcome. Love you too.