Happy midweek, my dear friends! It is my great honor and pleasure to present you with a post from one of my best blogging friends, Ellen of Scrumptious Gruel. We're tight. Oh yeah. In fact, we're so tight that she's going to invite me to this scmancy blogger party she's setting up. (Right, Ellen?) So without further ado, my lovelies, here is the lady of the hour…
Hi Kelly's (and perchance soon my) readers!
Lest you wonder who is telling you to go make a grain loaf, allow me to introduce myself. I am an actress based in Los Angeles. I don't consider myself "a writer", "a contortionist" or "a baker" although occasionally these activities earn a gal a lil' pin money. My website can show you just what a snazzy actress I am and my blog is where you can judge me on my writing and baking skillz. Go ahead. Be judge-y. As an actress my skin is like leather. I'm actually a vegetarian, so let's make that pleather. And now, food!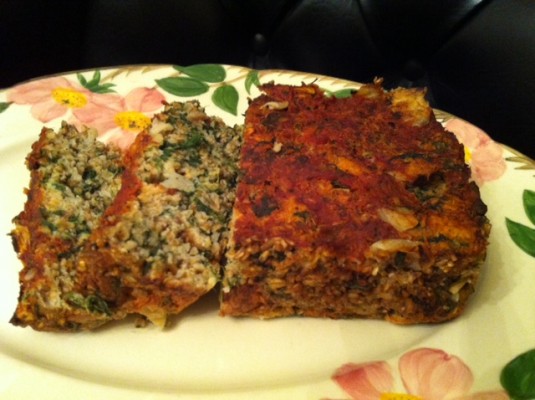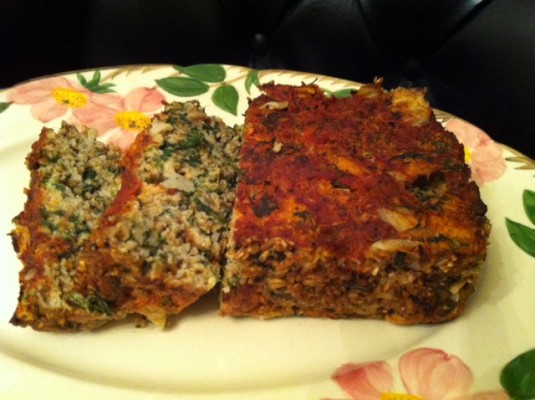 It's a loaf. Oh yes.
I am of the opinion that foods that are shaped, that you can sink your teeth into, are the best.I kinda dislike things like pilafs and couscous because there is something so…weak and tepid about daintily spooning up loose forkfuls of things. I prefer to chomp.
Good thing this loaf was made for chompin'! And that's just what I'll do. I'll chomp before LA chomps me up… let's all yell yahoo?
You were supposed to imagine that to the "these boots weren't made for walking" song, incidentally.
I really shouldn't compose song-based poetry late at night. After bourbon. Kelly, when you get to be of age, steer clear of the bourbon before writing. Just a bit of wisdom to wash down this loaf.
Yield: 8 servings
Guest Post: Ellen's Spectacular Veggie Loaf
Mixed Grains and Spinach Loaf oh-so-slightly changed from Everyday Cooking with Dr. Dean Ornish
10 minPrep Time:
35 minCook Time:
45 minTotal Time:
Ingredients
1 cup bulgur
1 cup oatmeal (I used old-fashioned)
2 cups vegetable broth
10-oz. package of frozen spinach, thawed
3 slices of whole wheat bread, cubed
1 cup chopped onion
1/2 cup egg substitute
1 tsp. minced garlic
1/4 cup dried parsley
1/4 tsp. dried sage
1/4 tsp. dried thyme
1/4 teaspoon salt
1/8 teaspoon fresh-ground black pepper
1/2 cup tomato sauce (I used the Whole Foods roasted vegetable pasta sauce)
Instructions
Heat the oven to 450. Spray a 9x5 pan with nonstick spray.
Combine the oats and bulgur in a bowl. Bring the vegetable to a boil, pour over the oats mix, cover and let stand for 8 minutes.
Add spinach, bread, onion, egg substitute, garlic, parsley, salt, and pepper and mix up. Put it in the pan and cover with tomato sauce. Bake until firm and hot, 35 minutes-ish.
7.8.1.2
218
https://www.foodiefiasco.com/guest-post-ellens-spectacular-veggie-loaf/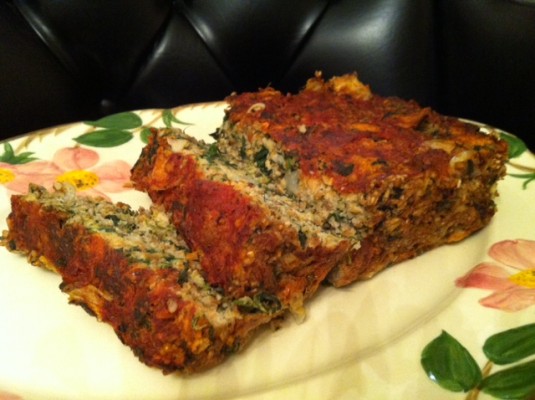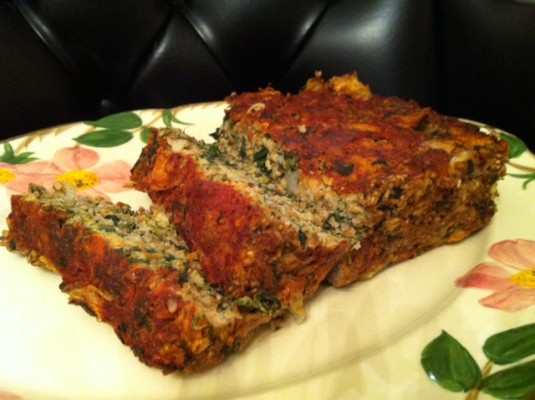 You may, if you are a salt fiend like me, wish to sprinkle a bit on after baking, but taste first and see what you think, readers!
Isn't she great? I hope you enjoyed this little change of pace, but worry not; there is not shortage of delicious fantasticness and my attempts of humor (feeble as they may be, but heartfelt nonetheless). A tout a l'heure!